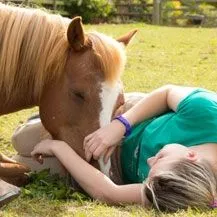 Veterinary diagnostics are tools that allow our doctors to delve deeper, below the surface of the skin, to learn exactly what's going on inside an animal's body. This provides us with the opportunity to quickly identify and diagnose a wide variety of ailments and injuries so that they can be treated in a timely manner. At Valley Equine Associates, we offer a wide range of advanced diagnostic services, from routine fecal tests to x-rays and ultrasound imaging. Rest assured that whatever is bothering your animal, we're prepared to get to the bottom of it so we can return them to a normal, active lifestyle as quickly as possible.
Digital Radiography
Digital radiography (x-ray) provides our doctors with the ability to examine the skeletal system and inner workings of the body to identify any potential concerns so they can be addressed in a timely manner. Digital x-ray technology allows us to quickly capture images so they can be examined and evaluated instantly. The veterinarians at Valley Equine Associates are all equipped with radiology technology so x-rays can be conveniently performed on-site at any farm, barn or stable.
Ultrasound Imaging
Ultrasound imaging allows our veterinarians to further examine the soft tissue structures inside your animal's body, such as ligaments, tendons and reproductive organs. Ultrasound produces harmless sound waves, which painlessly pass through the soft tissue and bring back images which can then be reviewed and evaluated. Using ultrasound imaging to examine the ligaments and tendons can help to identify and address specific problems such as lesions. Reproductive ultrasound can help to time ovulation more accurately for insemination and also track the development of pregnancy. Valley Equine Associates offers ultrasound service on-site for the convenience of our clients.